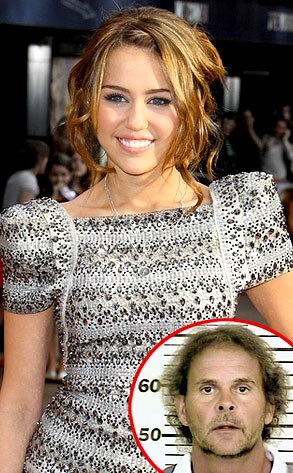 It looks like Mr. Miley Cyrus won't be getting out of jail anytime soon.
A Georgia judge has rejected a request to reduce the $55,000 bond for Mark McLeod, the obsessed fan who was collared earlier this month for allegedly stalking the Hannah Montana star during a film shoot near Savannah.
According to the Savannah Morning News, in a hearing on Tuesday, Judge Steven Scheer also called the 53-year-old McLeod a potential threat to the 16-year-old Cyrus and others.
"I can't deny him bond," the judge said, "but if I could I would, because I do feel he's a danger."
Disney's tween queen was filming the Nicholas Sparks adaptation The Last Song on Tybee Island when McLeod showed up unannounced on multiple occasions, saying he had received "secret messages" from her and claiming the two were secretly betrothed. The last occasion precipitated police to take into him into custody on charges of disorderly conduct, obstruction and criminal attempted stalking.
While acknowledging Cyrus "can afford the best protection money can buy," Scheer said that a comment McLeod made to investigators during his post-arrest interview made him feel that he could be a risk to others.
Taking the stand yesterday, Robert Merriman, a security officer hired by the Mouse House to watch over Cyrus, testified that McLeod "was going to be coming back to Tybee Island and finishing things."
Also disconcerting, the judge noted that the defendant was arrested in 2003 for contributing to the delinquency of a minor when he illegally transported a girl across the Georgia-South Carolina border.
After the hearing, McLeod's attorney, James Byrne, denied that Miley's so-called "secret husband" was a menace to her or society.
"He's been painted as this monster, but he's got a family," said the legal eagle. "What he said I understand was unsettling to a lot of folks. But it doesn't make him a stalker."
Not taking any chances, a temporary restraining order was issued against him.
Scheer concluded the proceedings by sending the case to Chatham County State Court in Savannah, which will ultimately decide McLeod's fate.
Reps for Cyrus declined to comment.
Click "nang it!" Button To Vote For This Post. Thank You...!